Vietnam's Best Scuba Destination
Con Dao has 25 dive sites to choose from. Over the past 9 years the team at Con Dao Dive Center, have explored all of the many islands and reefs that the archipelago has to offer, & can always recommend the best places to dive during your stay. 
Sometimes the weather, or the time of year you are visiting, can determine which dive sites we visit. Or maybe you are here for a multiple dive trip vacation and wish to see more of what the island has to offer. Contact us for more information about the best dive sites to visit, at which time of year. Our prices are all one rate to all islands. 
Con Dao Dive Sites offer depths of up to 21+ meters, for recreational divers and shallow areas for snorkelers and beginners. We run a daily two-dive trip for divers and snorkelers, departing the harbour at 8am. Journey time to the numerous dive sites ranges from 15mins to 1hr 20 mins. We also offer multiple dive trips and trips from our private speedboat. We can customize any aspect of your dive trip to suit you – contact us for more information.
The high season for diving in Con Dao is from March to September. During this time (July, August and September) Con Dao experiences the rainy season, though these are not long monsoons, just spells of heavy rain for around an hour, usually in the afternoon and evenings.
The low season for diving is from November to February, due to high winds, though on many occasions there are spells of weather good enough to dive. More often than not, with so many dive sites to choose from, there is a sheltered spot to enjoy the diving.
*7:00am: Meet up at the harbor. Click here for harbor's location.
Boat will take 15-20 minutes to reach the first dive site.
Dive briefing at the dive site. Kit up and enter the water.
*8:45am: Proceed to second dive site
Enjoy refreshment while doing our surface interval (around 40 minutes).**
Kit up and enter the water for the second dive.
*11:30am: Arrive at the harbor. Trip finish.
_Towel
_Sunscreen, Sunglasses, Hat
*Time in the schedule might change due to various reasons (weather/boat/…).
*We can also provide afternoon speedboat dive starts from 1:30pm to around 5:30pm.
**Lunch is not included in the trip as our trip only takes half a day. We do have refreshment onboard (fruits, chocolate, snack drinking water).
Please note that when diving in Con Dao, we highly recommend divers to be covered via insurance for diving, and emergency evacuation due to the remoteness of the island and limited medical facilities. If this is not already covered by your travel insurance policy, we recommend DAN (Divers Alert Network) for their cover.
Visit www.danasiapacific.org for more information.
FLYING AFTER DIVING GUIDELINES
Divers should not ascend to a high altitude within 12 hours of completing a single dive or 18 hours after doing multiple dives (whenever possible, wait 24 hours).
For more information and pricing on multiple dive trip packages and private speedboat trips please contact us.
We offer discounts for multiple dives, group bookings and our students. Contact us for more details on discounts and pricing.
*all prices include 10% tax and all marine park fees.
2 FUN DIVES
For certified divers
Speedboat from the harbor
Snorkeling
Join on the same boat with divers
Speedboat from the harbor

Snorkeling guide (depends on availability)
Frequently Asked Questions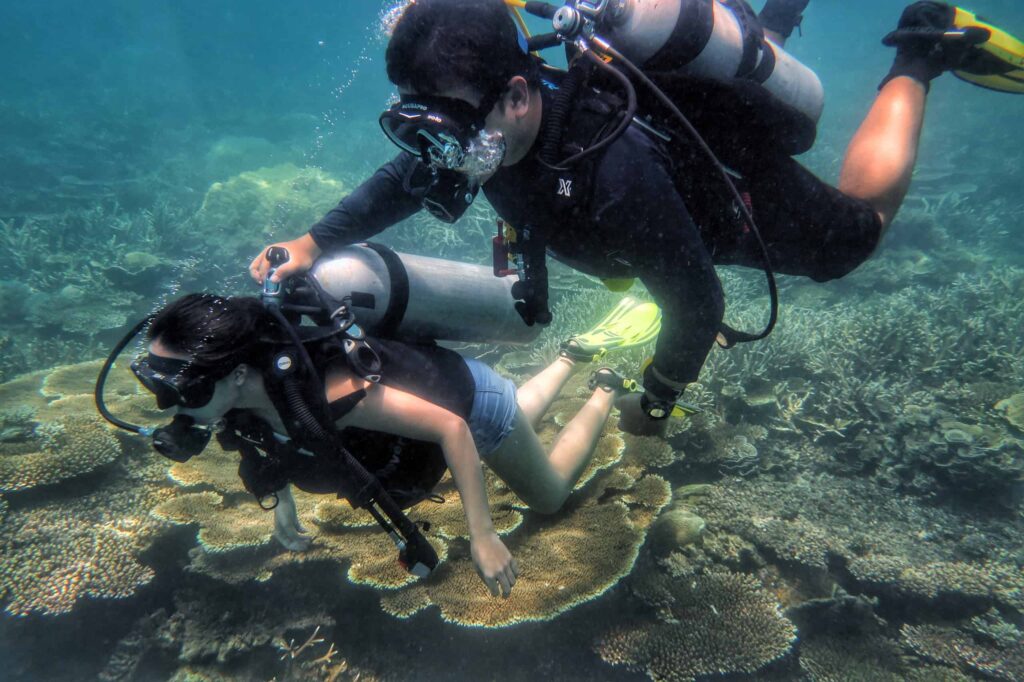 Try Dive and Discover Scuba Diving
Ever wondered what it's like to breath underwater? Thinking about becoming a diver, but not sure?
Con Dao is an ideal place to start! Peaceful, quiet and picturesque. No roaring jet skis to worry about or hordes of tourists – just a few lazy fishing boats heading out for their catch. Explore Vietnam's underwater heritage in the country's premier marine park. We offer introductory dive experiences and scuba dive beginner courses, with an experienced PADI professional. From try dives to certified open water divers, we have something start you on your underwater adventure.
Con Dao Dive Center 
Booking Office:
The Den Coffee, intersection of Tran Phu and Pham Hung street, Con Dao
Tel – Whatsapp: 
Dive Center: +84 97 594 76 85
Thông (Tiếng Việt / English): +84 972 997 801
Email: 
Working Time: 07:30am to 10:00pm
Note: We aim to reply to you within 24hrs of receiving your inquiry – if you have not had a reply please check your spam folder. If you still haven't had a reply from us then please re-send or contact us via facebook or any of the contact numbers shown above.