Vietnam's Best Scuba Destination
Con Dao has 25 dive sites to choose from. Over the past 9 years the team at Con Dao Dive Center, have explored all of the many islands and reefs that the archipelago has to offer, & can always recommend the best places to dive during your stay. 
Sometimes the weather, or the time of year you are visiting, can determine which dive sites we visit. Or maybe you are here for a multiple dive trip vacation and wish to see more of what the island has to offer. Contact us for more information about the best dive sites to visit, at which time of year. Our prices are all one rate to all islands. 
Con Dao Dive Sites offer depths of up to 21+ meters, for recreational divers and shallow areas for snorkelers and beginners. We run a daily two-dive trip for divers and snorkelers, departing the harbour at 8am. Journey time to the numerous dive sites ranges from 15mins to 1hr 20 mins. We also offer multiple dive trips and trips from our private speedboat. We can customize any aspect of your dive trip to suit you – contact us for more information.
The high season for diving in Con Dao is from March to September. During this time (July, August and September) Con Dao experiences the rainy season, though these are not long monsoons, just spells of heavy rain for around an hour, usually in the afternoon and evenings.
The low season for diving is from November to February, due to high winds, though on many occasions there are spells of weather good enough to dive. More often than not, with so many dive sites to choose from, there is a sheltered spot to enjoy the diving.
There are 3 main islands that we can visit: Hon Cau, Hon Bay Canh and Hon Tai. While all islands feature the same healthy coral reefs and rich marine life, they all have their own unique reef and fishes.
Hon Cau: The furthest of the 3 islands. It takes 20 – 30 minutes by speed boat to get to. The island is famous for the temple of Co Van that welcome a lot of Vietnamese tourist come to pray and worship. It has a very shallow reef, full of branching coral ranging from 2 – 8 meters. The main dive site here is called Shark Fin where scuba divers can visit the shallow branching coral area, the dead coral field full of nudibranch and sea slug, the hard coral garden where coral forming in different structures and full of other common reef fishes. Here, you can have a chance to spot some bigger marine life like giant barracuda, trevally, bamboo shark, turtle,…
Visibility in Hon Cau usually is the best of the 3 islands. Divers can go more than 20 meters here.
Hon Bay Canh: The middle island, it takes around 10- 15 minutes speed boat ride to get to. This island is turtle's favorite nesting site. Although turtles come here to lay eggs year-round, the main season is from late May to October. As the nesting site (south side) is protected by the marine park, no boat is allowed to go here. Most of our dive is done at the site called Horseshoe, north of Bay Canh island. Horseshoe feature shallow area for snorkelers and deep area upto 18 meters for divers. The site has two main reefs. One side is mostly branching coral and the other side is mostly table coral. You can find all kind of reef fish here, from little, colorful nudibranches to clownfish, sweetlips, anglefish, snappers, butterfly, pufferfish.. and in some rare occasion, eels, cuttlefish, batfish, scorpionfish,…
This is our to-go site when we have beginner divers or divers that haven't been diving for a long time. The site rarely has strong current and visibility usually very good here. Maximum depth is 25 meters.
Hon Tai (lucky island): The near island, it only takes 5 – 10 minutes to get to and is our favorite island. The site is rarely visited by tourist boat or fishing boat, thus, the fish and coral here is left to live and grow. The amount of fish here is much larger than any other islands around Con Dao. Our dive guide can take you to the batfish hideout where you can play around with the curious and friendly batfishes. Giant pufferfish is also a common sight here. There's also large school of barracuda, snappers, parrotfish. Deeper area of the site at around 10 – 15 meters feature many different species of nudibranch.
The diving condition here is, however, stay true to its name, depends on how lucky you are. Visibility here can change quickly from crystal clear to 4-5 meters in just matter of minutes. The site sometimes has strong current, perfect for relaxed drift dive along the reef.
We choose our dive sites of the date depends on many factors (winds, currents, number of divers on boat and experience level…)
The itinerary will be:
1/ We will meet you at 7.45AM at the TOURIST PIER  https://maps.app.goo.gl/VzqssW88JDBpNCSN9
2/ Heading to the snorkeling/dive sites (2 different sites)
3/ Spend approximately 1 hour at each site
4/ Back to the tourist pier from 12.30pm-1.00pm
_Towel
_Sunscreen, Sunglasses, Hat
*Time in the schedule might change due to various reasons (weather/boat/…).
*We can also provide afternoon speedboat dive starts from 1:30pm to around 5:30pm.
**Lunch is not included in the trip as our trip only takes half a day. We do have refreshment onboard (fruits, chocolate, snack drinking water).
Please note that when diving in Con Dao, we highly recommend divers to be covered via insurance for diving, and emergency evacuation due to the remoteness of the island and limited medical facilities. If this is not already covered by your travel insurance policy, we recommend DAN (Divers Alert Network) for their cover.
Visit www.danasiapacific.org for more information.
FLYING AFTER DIVING GUIDELINES
Divers should not ascend to a high altitude within 12 hours of completing a single dive or 18 hours after doing multiple dives (whenever possible, wait 24 hours).
We offer Private trips, Multiple-day packages, 3-tank-dives, 4-tank-dives, Shore dives, Night dives.
We offer:  
10% off for the 2nd day onward.
5% off for the 1st dive day for divers having own computer and regulators.
10% off for the 1st dive day for divers having own full gears: computer, regulators, bcd.
Kids age 6 and below will snorkel for free and parents must take care of the kids.

* All prices include VAT tax and marine park fees.
2 FUN DIVES
For certified divers
Speedboat from the harbor
Snorkeling
Join on the same boat with divers
Full Snorkeling equipment

Speedboat from the harbor

Snorkeling guide (depends on availability)
Frequently Asked Questions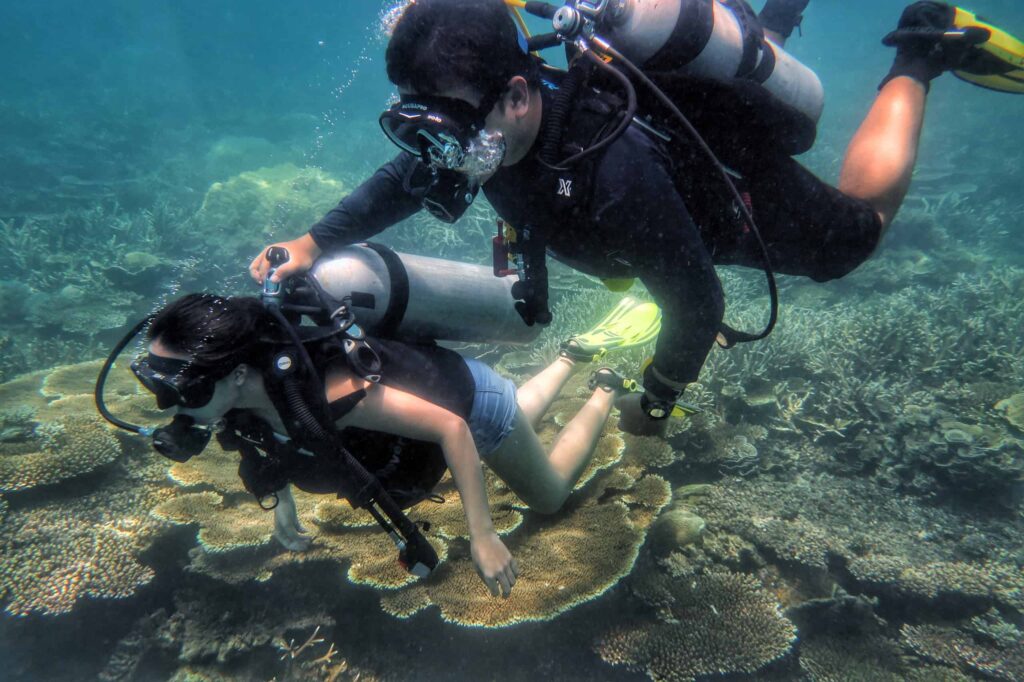 Try Dive and Discover Scuba Diving
Ever wondered what it's like to breath underwater? Thinking about becoming a diver, but not sure?
Con Dao is an ideal place to start! Peaceful, quiet and picturesque. No roaring jet skis to worry about or hordes of tourists – just a few lazy fishing boats heading out for their catch. Explore Vietnam's underwater heritage in the country's premier marine park. We offer introductory dive experiences and scuba dive beginner courses, with an experienced PADI professional. From try dives to certified open water divers, we have something start you on your underwater adventure.
Con Dao Dive Center 
Booking Office:
Phạm Văn Đồng Street, Khu 7, Côn Đảo
Whatsapp/Zalo:
Office: +84 987 1000 88 – Xuan
+84 975 947 685 – Thai
Email: 
Working Time: 07:30am to 8:00pm
We aim to reply to you within 24hrs of receiving your inquiry – if you have not had a reply please check your spam folder. If you still haven't had a reply from us then please re-send or contact us via facebook or any of the contact numbers shown above.